Buy a multiple label when simply because of the habit. The brand is gaining the "habit" of being very lucky.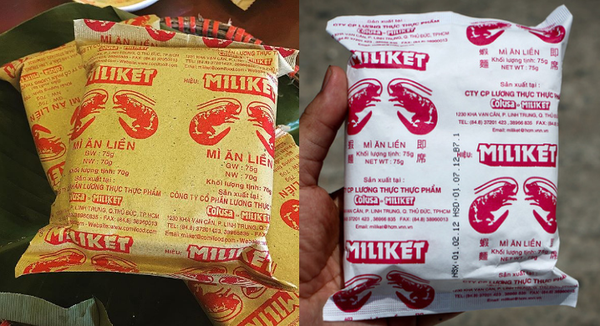 We would like to introduce the article "highlight does not mean nicer" by the brand expert Nguyen Duc Son-CEO Richard Moore Associates. Invite readers to welcome readers.
---
Take the supermarket who also see Miliket shrimp with a light wrapping zhuang. No longer cover black foil as a cement bag. The new picture is more beautiful, more modern.
Talking about shrimp noodles, labeled miliket Two shrimp can say there are long oldest history. From the years it has already appeared. This year's immense packaging is still the worst of such a land. Bad but very familiar. Bad but "identity" (identity) binds to the memories of multiple generations of 6x consumers, 7x and 8x.
For those brands that have deep memories like Miliket, many when brand distintiveness (striking brands) is not just eye-catching problems. It is also located in the link between the brand memory (memory) and the brand story.
Miliket two new shrimp packaging. Does someone who is familiar with ugly black packing will ignore the new packaging? Miliket default noodle soup. Buy bars (because of the cheap?) more acquainted. The noodles, the new packaging is not Dai Dai familiar, which is more common and white nicer.
Buy a multiple label when simply because of the habit. The brand is gaining the "habit" of being very lucky. Not on a two day that has. Consumer behaviour is difficult to understand. They also buy for familiarity. Seeing what's different in memory (memory, memories) is not buying anymore.
Change or not remain unchanged. How refreshing changes are made. Change even if it's okay, good. The interesting management Math challenge is to change the medium to better than just not harm to the old value. If this is the line extension solution for high-end streams should probably add more words to the old name Miliket will be more reasonable.
Brand distinctiveness (brand highlights) is one of the three key contents of the branding strategy (along with brand Differentiation and brand Relevance).
The highlight is to attract and to save into memory. In the case of miliket two prawns, the highlight may not be synonymous with nicer. Because the memory of many people have remembered a deep bold, ugly packaging.
What about the new consumer? Of course we will choose a new package. Since it's more striking than it attracts. Important is the subconscious (subconscious) yet to be filled by old memories.
FACEBOOK COMMENTS